For some people, summer means fun in the sun, outdoor barbecues, far-away vacations, no homework, and plenty of time to relax. But for many other people — especially students — summer can be an extremely stressful time of transition.
At college, students have their friends, classes, extracurricular activities, and other things keeping them constantly busy. When summer hits, it can feel like a loss of purpose, and for students with mental health issues, it can be detrimental to recovery.
Here are some tips and ideas on how to take care of your mental health and what you can do during summer break.
1. Transfer treatment to where you are living over the summer

If you are in therapy or some type or treatment at school, you have to think about what you will do over the summer. Many students who go away to college come back home for the summer months. Other students may get an internship or job in a new city. If you are in therapy in the area where you go to college, it can seem impossible to continue in the summer.
Talk with your therapist or other provider about what they think is best for you. There are different options available when it comes to transferring treatment:
Do video or phone call sessions with your current therapist. Sometimes your current treatment provider will do sessions with you over the phone or in a videochat for the three or so months you are gone.
Find a therapist where you are going. If you're going home and will be home during the summer (and winter break), it may be a good idea to find a therapist there. That way, anytime you're home for a prolonged period of time, you have a therapist you can work with. You can sign releases to allow your home therapist and your school therapist to talk, so they're on the same page.
Take a break from therapy. This is tough and should be talked about extensively with your current providers, but some people do just take a break during the summer! For three months, they don't go to therapy. That doesn't mean they don't work on their recovery, though. It actually may require more work through self-help. There are many workbooks, websites, books, and resources for working on yourself and your recovery while in a treatment hiatus. (These resources are also good for those who can't afford treatment!)
The important thing is that no matter where you're living, you are following through on your treatment plan and doing what is best for you.
2. Rearrange your room
In my personal experience, going home for the summer felt like I was walking into the past — a past filled with too many memories that I didn't want. It was hard to stay in a room that held so much. My bedroom just reminded me of all the time during high school I spent in it hiding away from the world, hurting myself, and being in the throes of my depression.
So one summer, I decided to rearrange it. Small things made a huge difference in how I felt about being home. I took the quote above my bed down, I moved my bed to the other side of the room, I changed my sheets, and I took down the photos and posters on the wall. I put up some new quotes, added christmas lights, got rid of all the junk, and moved the furniture. Changing the way the room looked changed the energy in it. I no longer felt like I was going back in time, I felt like I was present.
3. Reach out to friends and family
Let friends and family know if you're struggling or if you need extra support. Even if you're not struggling, text a friend to hang out. Sometimes we wait for the other person to reach out to us first, but what if they're doing that same thing?! Then there will be no texting and no hanging out because you both were waiting for the other one to do it first.
To avoid this, get in the habit of texting your friends every once in a while. Ask an old high school friend to go to lunch. Reach out to an old teacher you loved and get coffee. Go see a movie with a grandparent, sibling, or other family member. People need other people, and since you're used to be around friends effortlessly 24/7 at college, you need to make sure you're taking steps to see people!
4. Get a job/internship, take a class, or volunteer
Apply to jobs! Look for internships! These are great ways to get money and/or experience during the summer. It gets you out of the house and gives you something to work towards, since you don't have classes hanging over your head now. Your college may have a website that posts these opportunities, so check that out. You can also just apply to that little bookshop around the corner or your local Starbucks. Your summer job does not need to be what you want to be doing for the rest of your life, it's just something to do for now.
Of course, getting jobs and internships can be really hard. So if you're out of luck there, see if you can take a class online or at a local college. That's a good way to give you something to do and keep you busy while also fulfilling credits (if your school will take them, check on that first).
If that doesn't work either, volunteering is always a great option. You can find an organization that works in a field you are passionate about, whether that be mental health, health care, homelessness, animals, education, and more.
5. Do things you've been wanting or needing to do
We all have those DIY projects we've been meaning to get to, tasks we want to accomplish, and list of things we want to do when we have free time. Well, guess what? Summer = free time!
Read those books. Learn to crochet or knit. Make a piece of clothing. Make some art. Write a book. Re-purpose that chair. Plant those flowers. Dye your hair. Seek inspiration on Pinterest if you need it.
6. Eat regularly, drink water, get outside, and sleep
Don't forget to eat! It's best to eat throughout the day — three meals plus snacks. If you're in recovery from an eating disorder, stick to your meal plan  Make sure you're getting the nutrients you need and that you are hydrating yourself. It's especially important to drink a lot of water in the heat of the summer.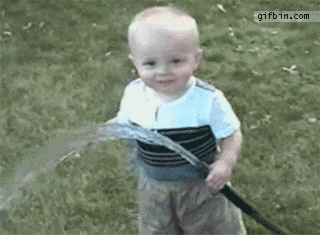 While it can be easy to sit inside all day, try to get outside, even if you just go lay in the grass and read a book. The sunlight can be good for your mood and it's great to be active outside.
It's also tempting to stay up really late and sleep in. While this is OK to an extent, it's important to try to stay on a sleeping schedule to keep yourself regulated. Sleep affects our bodies and minds much more than we realize!
7. Make a schedule
Schedules will give your summer structure. You don't need make it specific and detailed (unless you want to) when it comes to summer. Think of your schedule as guidelines or a plan for the day or week. Schedule blocks of time to read or watch TV, to go out with friends, to eat, sleep, exercise, etc. There's plenty of ideas for schedules online.
The goal is to give your days some structure so that you don't get that "lost" feeling. Knowing that tomorrow you have at least 2-3 things planned, even if you're the only person involved in the activity, can be beneficial.
You can make your schedule hourly, morning-afternoon-night, or like more of a to-do list. Do what works for you!
Above all, make sure you take care of yourself this summer. Do you have self-care tips we didn't list? Tweet them to @Active_Minds!