Creating hope out of tragedy
Active Minds was founded by Alison Malmon when she was a junior at the University of Pennsylvania following the suicide of her older brother, and only sibling, Brian.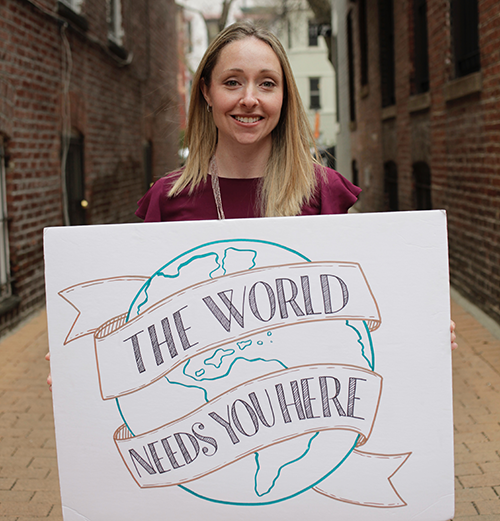 Silence hurts us all
Brian Malmon was a smart, popular, and fun student through high school and college. In the beginning of his freshman year at Columbia University, he started struggling with depression and psychosis, but concealed his symptoms from everyone around him for three years. In the middle of his senior year, he returned home and began receiving treatment for what was later diagnosed as schizoaffective disorder.
His underlying depression was left untreated and only worsened as he continued to hide his distress from his friends. "The depression had created a space for him where he felt like he was the only one, that all of it was his fault," says Alison.
A year and a half later on March 24, 2000, as Alison was wrapping up her freshman year at the University of Pennsylvania, Brian ended his life.
Starting the conversation
Alison recognized that Brian's story is the story of thousands of young people who suffer in silence; who, despite their large numbers, think they are totally alone. A majority of mental illnesses start between ages 14 and 24 when teens and young adults are in school, and suicide is the second leading cause of death for college students.
At Penn, she saw that no one was talking about mental health issues although many were affected. One of every five students lives with a mental health condition, but stigma and shame were preventing students from reaching out. The only way things would get better, she knew, is if young people started talking about it. She wanted to combat the stigma of mental illness, encourage students who needed help to seek it early, and prevent future tragedies like the one that took her brother's life.
Alison looked around for existing groups she could simply bring to Penn to begin to change the culture on campus. Finding none, she was undeterred and forged ahead, creating her own student-to-student model and forming a student group then known as Open Minds. The group's number one goal was to spread the word that seeking help is a sign of strength and not something to be ashamed of.
A growing movement
Within two years, as the number of chapters continued to increase and Alison graduated from college, the group grew as more and more students realized that others shared their concerns. Kate Hard, a friend of Alison's, transferred to Georgetown University and founded the group's second chapter there. Soon Alison was fielding calls from all over the country from students and administrators wanting to do something on their own campuses.
A national office was established in Washington, DC. The new nonprofit organization and all of the affiliated campus chapters were renamed Active Minds to reflect the organization's focus on action and student advocacy in mental health. Active Minds was incorporated as a 501(c)3 organization in late 2003.
19 years of impact
Active Minds has since become the premier organization impacting young adults and mental health. Now in more than 1,000 campuses and communities, we directly reach more than 1.9 million people each year through awareness campaigns, events, advocacy, outreach, and more.
In addition to a 600+ strong National Chapter Network empowering passionate student advocates, Active Minds' programs include Send Silence Packing®, an award-winning suicide prevention display; Active Minds Speakers, a curated group of professional storytellers and presenters who provide encouraging and safe mental health education for students and other audiences; the Healthy Campus Award, which honors colleges that are prioritizing student health and well-being; and the newly launched Active Minds @Work offerings to build a mental health culture in the workplace. 
Our consistent message, amplified by nearly 15,000 young adults each year, is that mental health needs to be talked about as easily as physical health. Only then can we bring suicide and mental health into the open so no one struggles alone.
"Young adults have identified mental health as their social justice issue," says Alison. "They are going to be the ones that change this for future generations."
our team
staff, board, and advisory committees
Learn More
watch videos
our mission in action
Go now