take action
There are so many ways you can get involved and support our mission!
join us in creating a world where no one's afraid to talk about mental health
share your story with Send Silence Packing
learn how
more giving options
Estate and planned gifts, stock and IRA gifts, workplace giving
Learn More
corporate and program partners
Sponsorship opportunities and multi-year partnerships
Contact us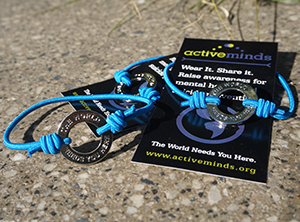 buy "The World Needs You Here" bracelets
It's the bracelet with the most powerful message of them all! Purchase "The World Needs You Here" bracelets for yourself or a friend, they're only $5 and available exclusively from Active Minds. All proceeds support our suicide prevention activities for high school and college students.
spread the word about Active Minds
Download a print-ready Active Minds postcard and distribute on your campus, at events, or in your community!