Bright, blue, and here for you
We heard from a lot of folks who wanted to sport the words "Here For You" on a t-shirt, so now is your chance to snag this bright blue v-neck! Buy one for yourself or gift one to a friend who's always been there for you.
Even more #HereForYou swag
We know a simple conversation can be life-changing, so let people know you care and that you'll listen. Wear a #HereForYou button on your favorite tee, decorate your backpack, or give a sticker to someone you care about. You never know who might be waiting to hear or see those three powerful words.
Dorm room decorators, rejoice!
We finally made posters. 🙂 With four different designs and go-get-em' messages, these posters are great conversation starters that spread the power of positive energy. You can buy them individually or in a pack of four. Find them on the "What's New" page of our store!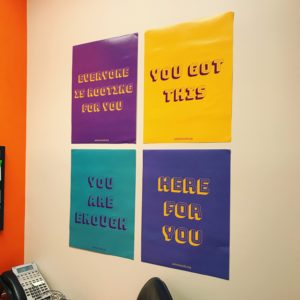 Wear it loud, wear it proud
This unique t-shirt design features a powerful mantra we find ourselves repeating a lot at Active Minds HQ. The shirt also features another message you'll recognize – The World Needs You Here – printed on the inside tag, with the Active Minds logo on the back. It comes in four different color options! The best part? This shirt was designed by our amazing summer intern, Abigail Brown, who models the t-shirt above. 🙂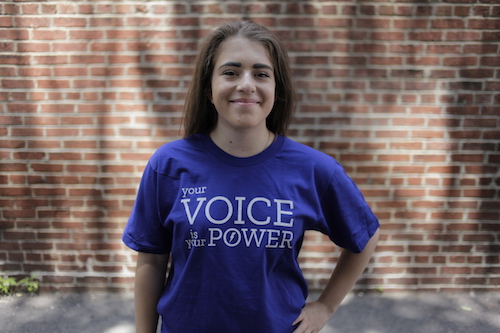 Special September bundle
Represent Active Minds on your campus with this classic t-shirt + water bottle combo. A refreshing message on your water bottle serves as a constant reminder: You can be anything. This bundle is only available for a limited time, get yours today!